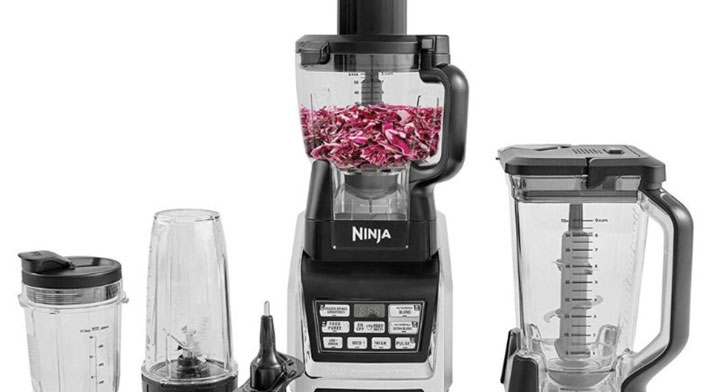 Due to the many ways, blenders are like, and food processors, the distinction between the two is frequently misunderstood by the general public. Many customers rush out to buy blenders and food processors without knowing what they are buying because the juice and smoothie diet is the current trend.
There are many brands and models of blenders and food processors on the market, including those that combine both functions. It may be more daunting than you initially expected.
Space is a genuine concern in most kitchens, so you'll want to purchase the correct item the first time to avoid duplicates using valuable counter space. Before we can answer whether a Ninja blender can be used as a food processor, we must examine what each is and the distinctions between them.
What is a Food Processor?
A food processor's attachments will make it unique from other food processors. Typically, they will have replaceable blades and discs. Little to no liquid is needed for a food processor to run and chop your fruits and vegetables.
A food processor is a multifunctional appliance that may do multiple tasks depending on where the blade, discs, or other attachments are placed. It can use to grind meat, nuts, seeds, and dry fruits. It is well recognized for its chopping and slicing capabilities, which are excellent for use with fruit and vegetables.
The food processor will meet your needs if you're looking for a device that can shred vegetables, grate cheese, combine, and bread-knead. A pusher that pushes the ingredients down the feeder chute is typically included in food processor designs and allows you to add ingredients safely while they are being processed.
Ninja Blender as a Food Processor
The Ninja blender has many excellent features, but it's still a blender. The Ninja has been tested as a blender and food processor, and although it succeeds in some jobs, it fails in others.
The Ninja blender makes silky-smooth smoothies, crushes ice, and chops veggies for soups, but it can't mix and knead the dough. It will cut onion but pulverize tomato, so you can't create salsa.
The Ninja blender can do some of the tasks of a food processor, but not all of them. It will meet 90% of your needs for blending and processing, though. Ninja blenders can also be used to chop and chop up food. Choose a blender, a food processor, or both, depending on what you want the equipment to do.
What is a Blender?
The blender's design is significantly different from the food processors, and you can see the difference just by looking at them. In contrast to the food processor, the blender features a jug-shaped container instead of a short container with a broad base. The effective operation of a blender needs a substantial amount of liquid.
For the best effect with a blender, the liquid must be added first. When the blender is turned on, a vortex pulls the veggies or fruit toward the blade, where it is ground and liquefied. Sometimes, a blender is also called a liquidizer.
A blender has a base, a jug, and a few other attachments. The jug has a permanent, non-replaceable blade. Plastic, glass, or stainless steel jars are used. Blenders are ideally suited for liquid processing and preparing juices, smoothies, and milkshakes. Some are even capable of crushing ice.
A blender's straightforward design makes it simple to use and clean, and they typically require less counter space than food processors.
In addition to chopping vegetables and fruits, It can also use them to grind nuts and seeds. Blenders are typically more affordable than food processors depending on the type and brand.
Final Thoughts
Your Ninja blender may indeed double as a food processor. Soft fruits and vegetables, sauces, salads, soups, and other items can all be processed in a blender, but it is not recommended to handle the dough or other forms of baking ingredients.
However, there is a technique to combine food processing and blending in one appliance. I sincerely advise anyone with some additional money to get the Ninja Kitchen System. For a wide range of kitchen uses, it performs. It will take the place of your blender, food processor, and a half-dozen other pieces of equipment.
Welcome! My name is Emma and you are on my Internet Kitchen. Delicious food is the common love of every foodie person. This site is to share friendly and appetizing recipes. We believe for a better life, you should need better food. So, keep visiting for updated information and recipes.